One of the most crazy men of our time is dead, Steve Irwin A.K.A The Crocodile Hunter died this morning,shortly after 11:00 a.m. local time (01:00 UTC), the details are sketchy but he died early this morning after being impaled by a stingray.News reports say he was stung either through his heart or through the left side of his chest by a stingray. After he was stung, his crew called for medical help and the Queensland Rescue Helicopter responded, taking him to Cairns Base Hospital. However, Irwin was immediately pronounced dead at the scene. The Queensland Police Service notified his family and released a statement for the media concerning the event.
Forever we will remember this great man and all he has done for people around the world, by that I mean do what he was doing when he died, screw around with animals, but He was a good man and he will be severly missed.
He died filming a documentary and died doing his job.
9/4/06 R.I.P. Crocodile Hunter, you will be missed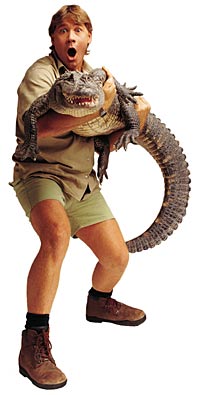 He was 44 when he died.
PS3 Friend Name:Supashay91
Passion
,
Joy
,
Sorrow
,
Pain
and
tears
.
They will all be pabulum of your life.